Fantastic Heat Brothers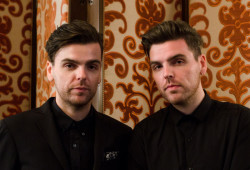 The Fantastic Heat Brothers are illustrators, animators, web and graphic designers – and they just so happen to be 28-year-old twin brothers. Originally from Manchester, England, they are currently based in Los Angeles, California.
Their animation clients include VISA, IFC, California State Lottery, Epitaph Records, Universal Republic Records and Scholastic. The brothers design for everyone from FYF Fest to Vans Shoes, Chilli Beans Sunglasses to Wells Fargo, from PR firms and Skateboard companies to Tenacious D and candidates for Superior Court judge.Their illustration work regularly appears in L.A. Record, The New York Observer, Bloomberg Businessweek and various other magazines, and on concert posters on the walls of clubs and bars from Los Angeles to New York and beyond.
The Fantastic Heat Brothers also write, record and perform as the indie-electronic duo Pop Noir.